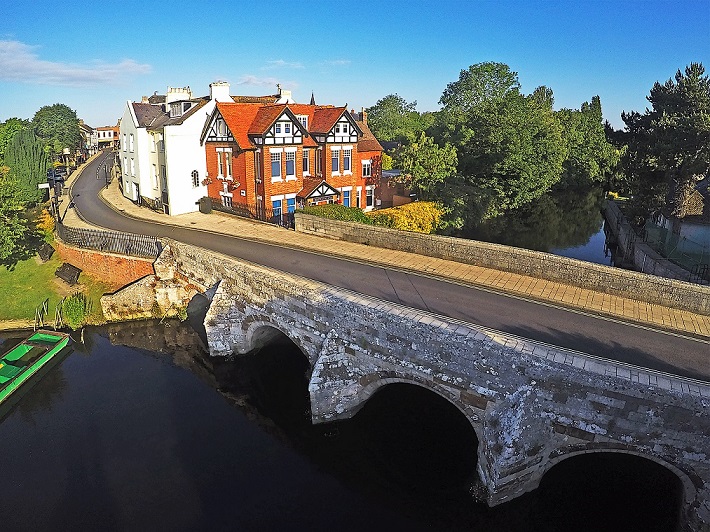 Christian English Language Centre
Beautifully situated on the river in the heart of historic Christchurch, near Bournemouth, Celc has been offering language courses since 1977. Celc has a 'boutique' feel, is friendly and of a very high quality. It offers general English and exam classes (PET, BEC, FCE, CAE, CPE, IELTS) to students over 16 years, tailored programmes for groups of students aged 12-18 years and a four week fully-residential summer school for 13-16 years.
Celc offer a wide range of activities & social events, most of which are free-of-charge. It is independent & owner-operated and prides itself on its care of students and its attention to detail.
Christchurch is just five miles from the centre of Bournemouth but quieter and rather quintessentially English. It is more than a 1000 years old and benefits from an ancient priory church, castle ruins and a delightful harbour.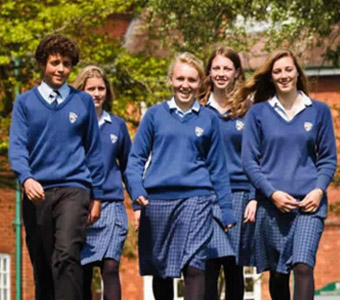 Whitehouse Guardianship
Family-owned and operated, White House Guardianships assists agents and parents to place students aged between 7 and 18 into the full British education system, ( NOT EFL) . Our courses, both long- and short-term, use a selection of excellent schools throughout the area. A full guardianship service is provided for the safety of all pupils. All our staff and hosts are checked through the Criminal Records Bureau. Our company is accredited by A.E.G.I.S. and is a corporate partner to Quality English.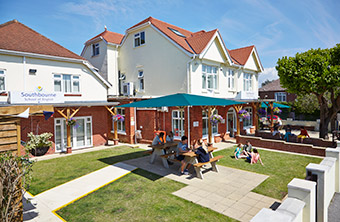 Southbourne School of English
Southbourne School of English is a family run school that was established in 1966. It is located in a beautiful residential area of Bournemouth where young families and professionals live. It is in a friendly, safe and clean area and is on very good bus routes, and close to a railway station. It is only a short walk from the local high street and 10 minutes to the beautiful beach, which is one of the longest sandy beaches in England.
The school is open all year round for individual adult students and groups from 10 years upwards. We offer first class education in a welcoming and caring environment. We provide a comfortable learning experience for our students as all of our 23 classrooms are fitted with latest interactive whiteboards, air-conditioning and heating systems.
All our 400 families who host our students are within walking distance of the school and have worked with us for many years. Families are police checked and visited regularly by our accommodation officer to make sure they are suitable. We also have a dedicated welfare officer to assist and support students.
As well as being accredited by the British Council, we are a member of English UK and English UK Young Learners. We are also a member of Quality English
We are a GESE Trinity examination centre and can offer GESE examinations for groups at short notice. We are also an Open Centre for Cambridge Business examinations, Cambridge Key Examination (KET) and Cambridge Preliminary Examination (PET).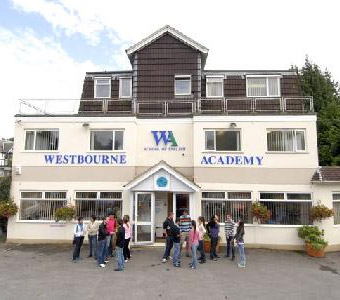 Westbourne Academy
Established in 1996 Westbourne Academy is set in its own grounds near the varied and interesting shopping centre of Westbourne Although we are specialists in English Language teaching we offer a wide range of quality programmes run by a qualified dedicated staff. All our courses represent excellent value for money. We offer a learning centre, café and WI-FI access throughout the school. The Academy is situated in an enviable position close to the town centre and sandy beaches."
Established in 1996, Westbourne Academy offers a wide range of quality programmes run by a qualified, dedicated staff. All our courses represent excellent value for money. The Academy is situated in an enviable position close to the sandy beaches.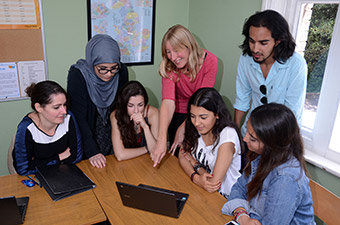 Bournemouth School of English
The Bournemouth School of English will give you a professional and personal service, with flexibility and friendliness. Our programme of study is unique, and has been personally designed to meet the needs of our students. We can offer you the individual attention that will allow you to focus on your needs and reach your own personal targets.
Established in 1985, our school is in the centre of town; we offer General English and Exam Preparation classes, along with Option classes that allow you to choose what areas you want to focus on. Our maximum class size is 12 and we have an international mix of nationalities – approximately 80% of our students are European, with 10% Arabic, and 10% Asian.
Please contact us if you have any questions; we look forward to hearing from you soon!

Bournemouth University
Bournemouth University (BU) is a modern and innovative institution geared to the professions.
The University's courses are designed and delivered to provide graduates with a head start in pursuing employment and career enhancement. All of these activities result in BU's year-on-year track record for achieving one of the highest graduate employment rates in the UK.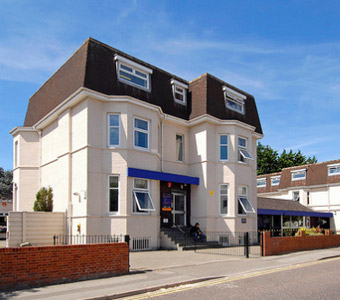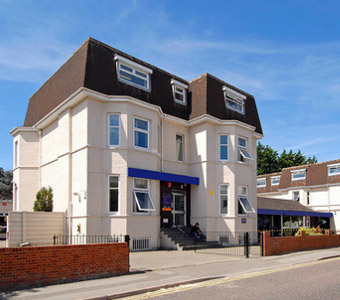 ETC International College
ETC International College is a specialist training centre based in Bournemouth offering English language, specialist English, Teacher Training, Further Education and Higher Education programmes. ETC was established in 1989 and since that time, we have worked with many high-profile international organisations, sponsors and embassies from around the world.
We are currently offering courses in General English, Specialist English (in 22 different subject areas, such as Medical English, Hospitality and Tourism English, etc), Exam preparation courses (IELTS, Cambridge suite, Trinity College GESE, etc), University Foundation Programmes (Business / Tourism and Hospitality, Engineering / Technology, IT), Teacher Training courses, Further Education courses and Higher Education courses.
Higher Education courses
– Business BTEC HNC and HND
– Engineering (Mechanical / Electronic / Electrical) BTEC HNC and HND.
– Specialist recognised Computing and Cyber Security courses.
Key benefits
– Focus on quality: ETC is inspected by Accreditation UK (British Council scheme), the Independent Schools Inspectorate, the OFS / QAA (the UK's universities inspection scheme).
– Smooth progression routes between all of our courses: from English courses to exam preparation courses and on to university foundation programmes which can lead to one of the recognised Higher Education courses at ETC or at one of our partner universities.
– ETC is a Tier 4 sponsor, which means that it can provide students with a CAS number for their Student Visa (formerly called "Tier 4 / General Student Visa").
– In addition to our homestay (host family) accommodation, we have our own Student Residence, so students can stay right next door to the main college buildings.
– ETC is located in the heart of Bournemouth, just 300 metres from the Square and the beach.
Anglo-Continental
Anglo-Continental is one of the world's leading English language teaching organisations. As a family run school with 72 years' experience in teaching English, we understand the importance of individual care and attention whilst providing professional teaching to meet the needs and expectations of our clients. Anglo-Continental is accredited by The British Council and is a member of the professional associations, English UK and Business English UK.
Our facilities include 84 classrooms, Multi-Media Learning Centre, library, lecture rooms, language laboratories, computers with free internet access, Executive Centre, WI-FI, student restaurant, award winning gardens and sun terrace. The campus is within easy walking distance of Bournemouth's town centre and beach.
Courses include short-term and long-term General English Courses, Academic Study Courses, Examination Preparation and Practice Courses (IELTS, First Certificate, Advanced Certificate in English, TOEFL and TOEIC), Business and Specialised Courses, Business Communication, Finance and Banking, Management, Marketing and Sales, Medical Practice, Legal Practice, Executive Courses, One-to-One Tuition, Teaching Knowledge Test (TKT) Preparation, CELTA Courses, English for Aviation, Club 50+ Courses, Vacation Courses (16-19 years old) and Young Learners' Courses (10-15 years old).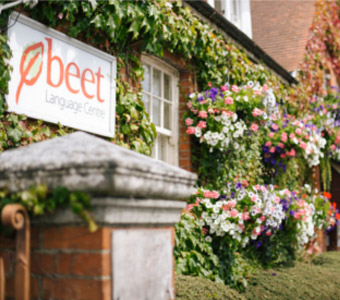 BEET Language Centre
BEET Language Centre is one of the UK's top English language schools. We're a friendly, family-run school with over 42 years of experience.
We're located in the UK's beautiful, multi-award-winning seaside resort of Bournemouth; it's the perfect place for students to study English and enjoy every moment of their free time too.
We offer a range of Face-to-Face courses including General English, Cambridge English (FCE, CAE, CPE) and IELTS Examination Preparation. Our team of experienced & dedicated teachers makes learning English a truly memorable experience, for all the right reasons!
All accommodation is within a maximum of 20 minutes' walking distance from the school. We offer homestay, executive homestay, student house and en-suite summer apartment options.
Our students' happiness is our top priority! We aim to provide a 5-star service across all aspects of students' language stays; from the classes to the evening social programme, the welcome they receive from their host family to the atmosphere in the school canteen.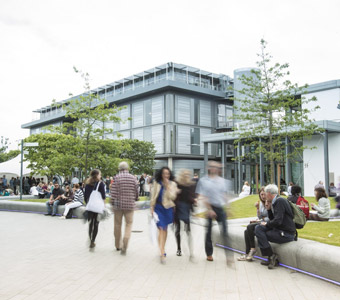 Arts University Bournemouth
Established in 1885 as a specialist institute, the Arts University Bournemouth is a leading university offering high quality specialist education in arts, design and media across the creative industries. Both British and overseas students work together in a friendly and supportive environment where collaboration is the key to a successful study experience and future career. The University has an excellent reputation in the creative industries and many of its specialist courses are considered to be among the best in the country.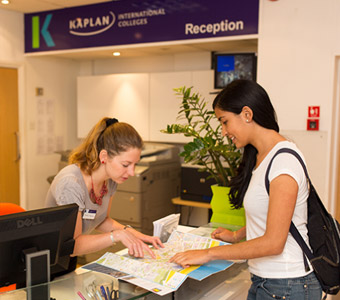 Kaplan Aspect Bournemouth
Kaplan Aspect was established over thirty years ago. We are located in Westbourne fifteen minutes walk from Bournemouth town centre and ten minutes from the beaches. We deliver a wide range of English language training programmes and specialise in preparing students for university including the Bournemouth University Foundation Programme and A levels in partnership with Ringwood High School. Home stay and a range of self catering residential accommodation options are available. We offer a year round social programme and have excellent study facilities including three computer centres and Wi-Fi throughout the school.