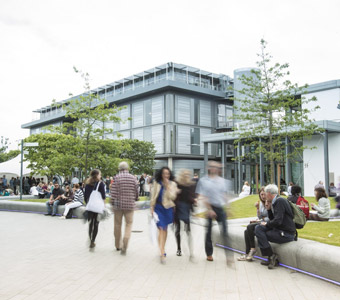 Arts University Bournemouth
Established in 1885 as a specialist institute, the Arts University Bournemouth is a leading university offering high quality specialist education in arts, design and media across the creative industries. Both British and overseas students work together in a friendly and supportive environment where collaboration is the key to a successful study experience and future career. The University has an excellent reputation in the creative industries and many of its specialist courses are considered to be among the best in the country.

Bournemouth University
Bournemouth University (BU) is a modern university offering professional and innovative learning, combining research-led teaching with industry and professional engagement. This fusion of academic knowledge, practical skills and industry experience makes BU graduates highly attractive to employers, and over 93% of BU graduates are in subject-relevant employment or further study within 6 months of graduation.
BU sits at the heart of Bournemouth?s cutting-edge digital industry, using its research and expertise to support and work with the many digital companies which ensure that Bournemouth has the fastest-growing digital economy in the UK, and largest outside of London.
As an institution with strong aims and ambitions, BU?s ranking is rising fast in all major league tables and BU recently joined the Times World Top 500 universities, as well as being ranked by the Times as one of the world?s top 200 most internationally-engaged universities, and top 150 universities under 50 years old.
Around 240 Bachelor?s and Master?s degrees and Postgraduate Research opportunities are offered at BU in a broad range of subject areas, including: Archaeology & Anthropology; Accounting, Finance & Economics; Business & Management; Computer Animation & VFX; Design, Engineering & Creative Technology; Forensic & Environmental Sciences; Health Sciences; History, Politics & Law; Media Communications & Production; Psychology, Sociology & Criminology; Sports & Events; and Tourism & Hospitality Management.
With UK-leading Centres of Excellence in Media Practice and in Tourism, the world-renowned National Centre for Computer Animation; 1,500 regularly-engaged industry partner companies and 33 professional accreditations across its course portfolio, BU stands amongst the leading UK institutions for professionally-focused teaching, industry recognition and graduate employability.